Andrew Kavanagh
CEO / Founder
Andrew is an award-winning executive producer and creator. His concepts have been developed into shows that can be seen all over the world and are watched every day by thousands of children in dozens of languages. Andrew acts as development executive and has oversight for the studio's slate of original properties. Most recently, Andrew has been developing Adam Loves Adventure! with national treasure Adam King.
For all development queries, talk to Andrew, andrew@kavaleer.com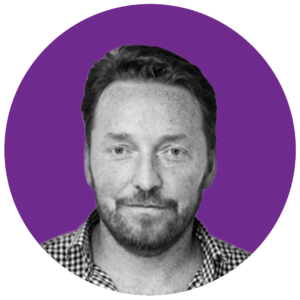 Gary Timpson
Managing Director
Prior to joining Kavaleer as MD in 2004, Gary worked for Dublin feature studio, Terraglyph Productions, along with several studios in London and Liquid Animation in Brisbane, working on shows like Mr. Bean for ITV, The Proud Family for Disney, and Duck Dodgers for Warner Brothers. Gary has acted as producer or executive producer on all Kavaleer's long-form output and is also very involved with the procurement of domestic finance and the Section 481 tax credit. In addition to his production roles, Gary was formerly treasurer of Animation Ireland and has recently been elected to the board of MEDIA Desk Ireland.
For all business enquiries, talk to Gary, gary@kavaleer.com
Léan Duffy
Head of Production
Léan has spent the better part of two decades working at the forefront of Irish animation. From unique, original and homegrown series such as Fluffy Gardens, Punky, Planet Cosmo and Nelly & Nora, and the reboot of much-loved 80's Roobarb & Custard Too, to co-productions such as Boy Girl Dog Cat Mouse Cheese and the award-winning Pablo. Léan has had production roles on over 300 broadcast animated episodes and is currently producing Boy Girl Dog Cat Mouse Cheese (Season 2) and new episodes of Kiva Can Do! for RTEJr.
For all production enquiries, talk to Léan, leanduffy@kavaleer.com
Graham Corcoran
Art Director
Graham has been Art Director at Kavaleer since 2008 and has designed Garth & Bev, Wildernuts, Kiva Can Do and Alva's World for the studio. Graham has also illustrated several children's books for publishers such as Scholastic and The O'Brien Press, including the 2019 An Post Irish Book Award nominated Dare To Dream by Sarah Webb, and his artwork has featured in publications and gallery exhibitions worldwide.
Jenny O' Brien
Series Director
Jenny first worked at Kavaleer back in 2006 as an interactive designer. She garnered a wealth of experience working as an animator in studios such as Monster Animation and Boulder Media, before becoming a lead animator on Nelly and Nora for Geronimo Productions. Jenny has worked as animation director on two children's shows for Nickelodeon, Kavaleer's Kiva Can Do! and the Mooshku show, Tot Cop. Jenny recently directed the #KavaleerOriginal, Alva's World and is currently directing Kiva Can Do! (Season 3).
Paddy Kelly
Production Manager
Patrick started his career in animation as a CG generalist before moving into animation production. Prior to his time in Kavaleer he worked on a number of long form series, for broadcasters such as the BBC, Amazon and Nickelodeon. More recently he was Line Producer for a BBC animation special based on a Julia Donaldson adaptation. Patrick studied in Ballyfermot College of Further Education where he obtained a degree in Creative Media Studies. He currently lives in a seaside village with his partner and two young sons.
Amber Hennigan
Production Manager
Amber has been working in the animation industry since 2008, starting out as a compositor, then moving into pipeline management and production management. Amber has worked on shows like The Amazing World of Gumball, Olivia and Noddy.
Having first worked with Kavaleer in 2011 on Mad Cows for RTE, a pilot for Disney Junior and on two seasons of Wildernuts for RTEJr and Tiny Pop, Amber returned in 2020 as PM on Circle Square for Milkshake and is currently production managing Kiva Can Do! (Season 3).